CURRICULUM DRIVERS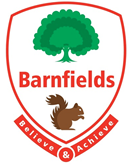 Our curriculum is underpinned by six key themes which we call our 'drivers'. These determine the direction and development of the work that we undertake in all areas of school life, ensuring that we offer a curriculum that it is enriched and personalised in order to meet the interests and ambitions of our children.
Our curriculum drivers are factors that we value as a school, alongside our ethos of Believe and Achieve.
VALUES
At Barnfields Primary School, adults act as positive role models, actively teaching the children the five embedded school values (respect, resilience, reflection, responsibility and positivity) and how we can live by these. Character education is valued, ensuring that children are fostering life-long learning behaviours that will allow them to succeed in their next stage of education and beyond. Nurture is at the heart of the school, enabling children to take risks, problem solve and to become free-thinkers. As part of this, physical and mental well-being is paramount and we believe that a good education promotes health and happiness as well as academia. Our curriculum also develops children's understanding of diversity as they to gain a deeper understanding of the world in which we live.
AMBITION
Barnfields children are encouraged to be the best that they can be by aiming high and having aspirational goals. They embrace the school ethos of 'Believe and Achieve' and are willing to challenge themselves as learners. Establishing positive role models across the school is important to us and enables children's experiences to broaden. Children at Barnfields understand that attitude, effort, belief and continuous improvement are part of the learning process and a route to success. Rich and varied learning experiences are designed with great thought and care, ensuring that they are ambitious and challenging for all children. We work to broaden our children's horizons, expanding their knowledge of the world of work by nurturing their interests. This captures the inclusive nature and high aspirations of our school.
RELEVANT
The curriculum at Barnfields is relevant and responsive to the age in which we live, educating for life. Our curriculum provides the children with meaningful experiences, engendering significant and purposeful learning opportunities. They learn skills that they can develop as they mature, whilst at the same time understanding the key age-appropriate knowledge from every subject within the National Curriculum. We believe that PSHE is vital for pupils to learn how to keep safe and healthy in an ever-changing world. Our progressive PSHE curriculum is relevant to the lives that children live today and prepares them for the future Wider global issues are also studied (especially in KS2) in order to prepare children with the skills and understanding needed for later life. Children leave Barnfields with a well-rounded education that equips them with the knowledge, skills and attributes needed to be active citizens who can contribute positively to society in the 21st century.
ENQUIRY
We believe that choosing the right context to engage our children in their learning is vital in fostering a love of learning and also maintaining our high standards. Our curriculum is planned around the distinctive needs of our children, promoting curiosity and interest. Within each topic, open-ended questions to investigate are presented to the children, engaging and motivating them as learners. These questions are designed to provide the context for learning in most subject areas, enabling the children to further develop and deepen their knowledge and understanding. Children are encouraged to drive their own learning forward by questioning, investigating and solving problems.
CREATIVITY
We like our children to engage and express their ideas in a variety of creative forms. Our curriculum enables this as we believe in providing them with opportunities to be imaginative and to use experiences and observations to make connections in their learning. Children are able to use their critical thinking skills to create new and meaningful forms of ideas where they can take risks, be independent and flexible. Children thrive by advancing their knowledge and understanding through a wide range of creative, physical and expressive activities, nurturing their skills and talents while broadening their horizons and enriching their experiences of life.
COMMUNITY
At Barnfields, we actively encourage the children to establish a sense of themselves within their local/wider community by developing the emotional understanding necessary in order to experience positive relationships and a respect of themselves and each other. Throughout our curriculum, we aim to promote an understanding of our local community and this is frequently used to inspire children by drawing upon the rich resources in Staffordshire. Local history is valued and studied, along with other heritage, geographical and business links. We explore how our school community, local community and wider community are important to us and the contributions that they make to our lives. We believe in the power of the parent/family participation and the school community to change and enhance lives.