yEAR 4
Welcome to Year 4!
The children have settled back into school brilliantly and are working so hard.
Well, what an exciting year we have in store for your children! We will be travelling in time from the Romans to the Saxons and finally Back to the Future. We are thoroughly looking forward to (hopefully!) having a more normal year and may have the opportunity to enjoy a few trips.
The Childrens' Secure Page for Year 4 will be updated every week with spellings to be learnt and TT Rock Stars tournament results. You can also find additional homework and resources to support home learning here too.
Thank you, and we look forward to the year ahead.
The Year 4 Team
---
Meet the Team:
Miss Nash - LKS2 Lead
Mrs Jones - Teacher and Music Lead
Miss Maw - Teacher and Art Lead
Mrs Bright - Teaching Assistant
Mrs Kirkland - Teaching Assistant
If you require anything, please contact the school office: office@barnfields.staffs.sch.uk
---
Key Information:
PE: lessons will now take place on Tuesdays and Wednesdays. Please ensure children have PE kits in school for those days.
Homework: spelling lists will be sent home and TT Rock Stars tournaments will be set every Friday. Also, the children have chosen their own reading books from the library. Please read regularly with the children at home.
Music: in Year 4, the children are learning the violin and have been allocated an instrument. Our lessons are every Friday - please make sure your child brings their violin into school on this day.
Multiplication tables check: in June, all children in Year 4 will be taking a multiplication tables test online. This will test the children's recall of all tables up to 12.
Library: Year 4 children can visit the library every Wednesday lunchtime.
---
Useful links for Home Learning:
---
Useful Links for Multiplication Tables Check
https://mathsframe.co.uk/en/resources/resource/477/Multiplication-Tables-Check
https://www.gov.uk/government/collections/multiplication-tables-check
https://home.oxfordowl.co.uk/at-school/primary-school-assessment-tests/year-4-multiplication-tables-check/
---
Curriculum in Year 4:
Autumn Term
This term, we are travelling back to Ancient Roman times to discover what life was like. Our learning will take us on an incredible journey as we study the infamous eruption of Mount Vesuvius; how the Roman Army was so successful; Julius Caesar's terrifying reign and explore how the Romans have influenced our lives today. In Science, we will be exploring states of matter through practical investigations and research. We will study volcanoes of the world in Geography and learn about the process of an eruption. We will create clay busts of key Roman figures such as the Boudicca and Emperor Hadrian in Art. In DT, we will develop sewing skills and make a Roman bulla.
At the beginning of the year, the children enjoyed a Bikeability session. We looked at how to care for our bikes and improved our riding skills with lots of exciting challenges and obstacles.
---
Autumn Term Gallery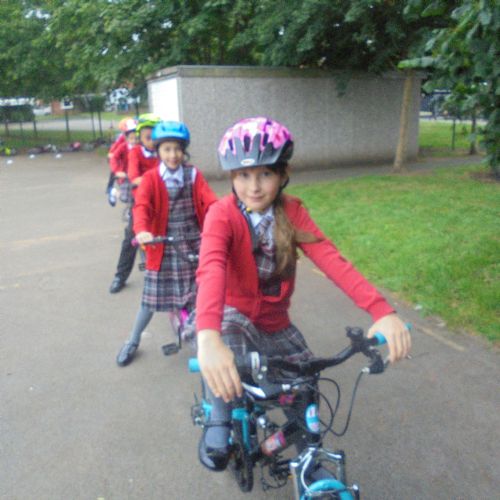 Please go to the secure pages to view our all Y4 gallery and photos from Autumn Term.
---
Spring Term 2022
This term will take us back to the Anglo-Saxons. To begin, we will be learning about the lives of the Anglo-Saxons and how they have influenced our lives today. In particular, we will be focusing on the Staffordshire Hoard and how the Anglo-Saxons created and followed their own laws and justice. We will then move onto studying the invasion of the Vikings.
In science, we will be looking at sound and how sound is created, heard and what affects loudness and pitch of sound.
We will then move onto Animals including humans and look at digestion systems of Humans and the relationship between predators and prey.
---
Spring Term Gallery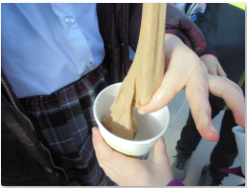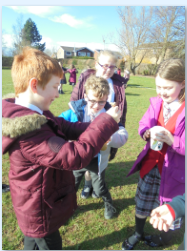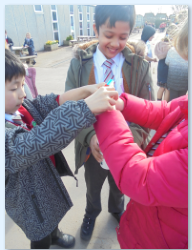 A few photos of our science Experiment
---
Some snapshots of the Silver trail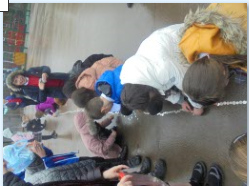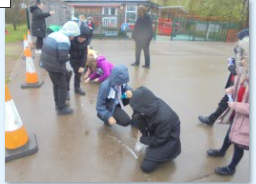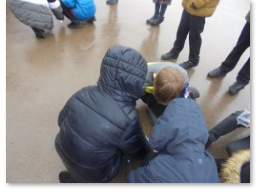 ---
Music Making in Year 4